STOP PRESS : CNDs Budget Statement: http://www.cnduk.org/index.php?option=com_k2&view=item&id=3598
UPCOMING EVENTS:
++Gerry Mulvenna has kindly agreed to shoot a wee video to send a message to ICAN in Oslo from all Scottish supporters. If you can participate, please come to the foot of Castle Street, Edinburgh for ten am on Saturday 25th November.
Saturday 2nd December: Edinburgh CND will have a stall at the Radical Fair between 1pm and 5pm. We will have SCND cards and jewellery for sale, as well as plenty of campaigning materials: Augustine United Church, 41-43 George IV Bridge, Edinburgh.
This will likely also be the day of our next visit to the Faslane Peace Camp.
Tuesday 5th December: Edinburgh CND monthly meeting with AGM and winter treats, all welcome: 6pm to 7.30pm, Peace and Justice Centre, 5 Upper Bow, Edinburgh EH1 2JN.
Friday 8th December: UN House, a partner organisation of the International Campaign to Abolish Nuclear Weapons (ICAN), will hold an open party on the eve of the Nobel Peace Prize ceremony, featuring Protest in Harmony: from 5.30 pm, Dolphin House, 4 Hunter Square, Edinburgh EH1 1QW.
0
Saturday 9th December: UK CND Day has called a nationwide Day of Action to celebrate ICAN's Nobel Peace prize win and to promote the United Nations treaty banning nuclear weapons. We will be having our monthly stall that day and intend to make it a part of this event: 12.00 noon (note earlier time) at the East End of Princes Street.
More from Edinburgh CND: the following motion proposed by Edinburgh CND at the Scottish CND annual general meeting on 11 November was carried:
"This conference affirms that the prime aim of SCND and it's local groups is to push for the abolition of the Trident Weapon system and all other nuclear weapons. We will work with all other campaigns that help to further this aim. In particular, we should work with Nukewatch to urge the Scottish Government to take firm action to keep convoys off our road."
Please help Faslane Peace Camp get through the winter! To maintain an all year round presence, the camp relies heavily on donations of money, food, tools and building materials. Money raised through crowdfunding will enable them to buy better tools and building materials, build longer-lasting structures, and most importantly, be better resourced in our campaign against nuclear weapons. Click here to support the Faslane Peace Camp crowdfunder. Or you can visit the camp, taking some of the items on their wishlist: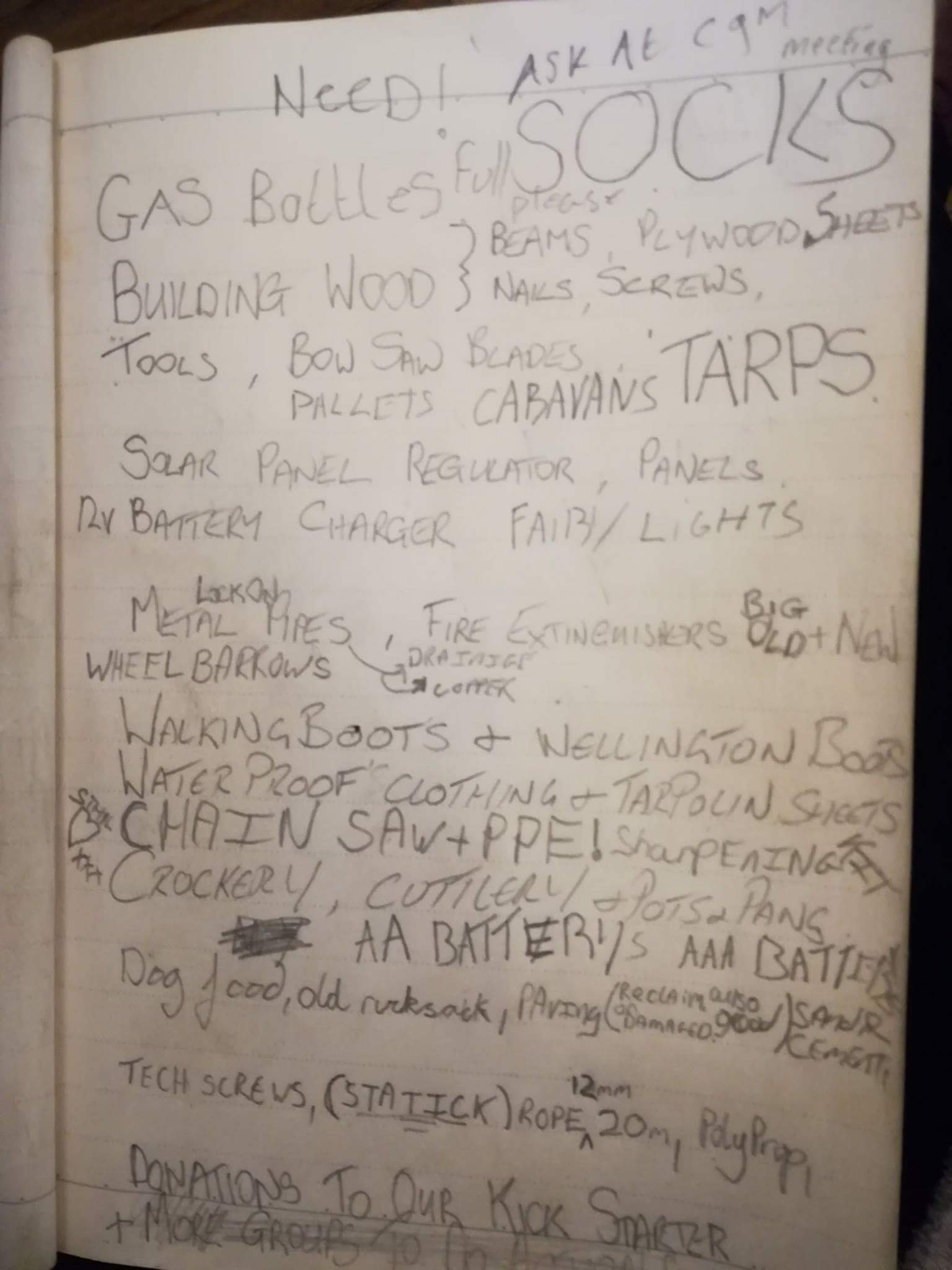 News From CND UK: The UN's global ban treaty could eliminate all nuclear weapons and help create true security for the world. But only with nuclear armed states like ours on board. We need to develop a transition plan for disarming Trident, lobby the government to support the Ban Treaty and raise awareness of this issue through a national Citizens' Treaty. If we succeed, the UK will join the 95% of the world that doesn't own nuclear weapons, making us safer and freeing up £billions to put into the things we genuinely need: hospitals, homes, schools and jobs.
CND's response to John McDonnell's emergency budget demand:
Kate Hudson, CND General Secretary, said: "Investment in public services is vitally necessary – so it's time for Labour to prioritise that and drop its commitment to wasting £205 billion of public money on Trident.
"Investment in public services is about creating a decent society for all – a well-educated and healthy populace, with real security issues addressed. Wasting £205 billion on a cold war relic is completely incompatible with that approach.
"The Labour Party is putting forward a real alternative vision of how to run the economy to address inequality and serve the needs of the whole community. But on Trident it lines up with the government and accepts the status quo.
"Every billion committed to Trident is a billion that could be spent on schools and hospitals, or on defence diversification for hi-tech jobs that address the 21st century threats we face like climate change and terrorism.
"Britain needs a government with a new vision and a new set of spending priorities that meet people's needs. They cannot include Trident."
News from ICAN:
Stewart McDonald MP is holding an event in parliament for the achievement of ICAN's Nobel Peace Prize. There will be an ICAN meeting will before at Medact's office (The Grayston Centre, 28 Charles Square, London N1 6HT) from 11.30am.
CND and Medact are hosting a demo outside the Ministry of Defence on the 9th of December, which is Nobel Ceremony weekend! Info and updates on ICAN's Facebook event here. Please click that you are going to try and spread the word. Two posters can be downloaded from Dropbox here.
Chester CND came up with the brilliant idea of buying some space in their local paper for an ad congratulating ICAN on the Nobel Peace Prize and drawing attention to the Treaty.  A sample can be downloaded from Dropbox here
Parliamentarians played a major role in realizing the Treaty on the Prohibition of Nuclear Weapons. Now we are seeking their help to promote the signature and ratification of the treaty by all nations. The Parliamentary Pledge is a commitment by parliamentarians around the world to work for their government to join the treaty. Please ask MPs to sign.
ICAN UK publication: The Treaty on the prohibition of Nuclear Weapons – What was achieved and why the UK should join can now be downloaded.
+++++The 2017 Annual NFLA / Mayors for Peace joint seminar, which will take place from 1.30pm – 3.30pm on Friday 1st December in the LEAF Centre, 113 – 115 Portland Street, Manchester. 
UNfold Zero asked: Do you have ideas on interesting actions or initiatives for nuclear disarmament – especially for youth? You are invited to send these ideas by email or twitter (#ReachHighPrague or #YouthAgainstNukes) for consideration at the Reaching HIGH for a Nuclear-Weapon-Free World international youth conference and training in Prague this week.